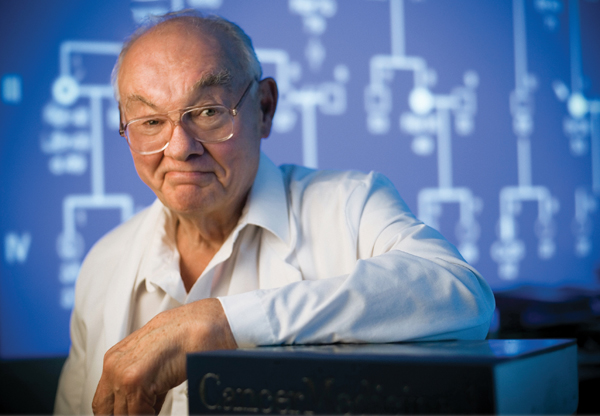 Lynch syndrome is about families and if anyone understands that, it is Dr. Henry T. Lynch, the founder.  Today, many of us with Lynch syndrome exist, only as a result of this wonderful, caring man and his family who have given and sacrificed so very much so we and our families may live.
Words can never express our gratitude but hopefully our global actions will.  Our mission is to carry his mission forward for the generations to come – to work together as a team – survivors, previvors, medical professionals, genetics professionals, research professionals, governmental agencies, educational facilities, communities – to find the over 600,000 individuals of which only 5% are diagnosed and to protect families and save lives from devastating cancers and to do so working within the true tradition of Dr. Henry Lynch.
With Immense Gratitude For All He Has Done So Our Families May Live
Often referred to as the father of hereditary cancer, Lynch is a pioneer in the study of cancer and genetics. Part of the international team that discovered the location of one of two known genes involved in hereditary breast cancer, Lynch and his early cancer research significantly influenced how physicians and researchers treat and study hereditary cancers today.
Lynch's groundbreaking research in the 1960s into the medical history data of two extended families led him to the discovery of cancer family syndrome (CFS), also known as hereditary nonpolyposis colorectal cancer (HNPCC) or Lynch syndrome.  Though not an actual cancer, Lynch syndrome strongly predisposes people who have this inherited defect to develop colorectal cancer as well as several other types of cancer.
Lynch's use of statistics to prove the genetic link to certain cancer types was unique from other researchers at the time.
Born in Lawrence, Massachusetts on January 4, 1928, Lynch grew up in New York City. He joined the U.S. Navy at 16 using a falsified birth certificate and served in Europe, the Philippines and as a gunner on a marine ship in the Pacific during the Second World War.
After being discharged from the Navy in 1946, Lynch stepped into the ring and became a professional boxer. He earned the nickname "Hammerin' Hank" while boxing in upper New York State and in the San Francisco area.
Lynch received his bachelor's degree from the University of Oklahoma in 1951 and went on to earn his master's degree in clinical psychology from the University of Denver in 1952. He received his doctorate degree in human genetics at the University of Texas, Austin, before completing medical school at the University of Texas, Galveston, in 1960. Lynch then interned at St. Mary's Hospital in Evansville, Ind. and completed his residency in internal medicine at the University of Nebraska College of Medicine in Omaha, Neb.
Lynch was an assistant professor at the University of Texas M.D. Anderson Hospital and Tumor Institute in Houston prior to joining the Creighton University School of Medicine faculty in 1967.
In 1984, Lynch established Creighton University's Hereditary Cancer Prevention Clinic, an interdisciplinary clinic that provides information and services related to hereditary cancers. He is currently chairman of Preventive Medicine at Creighton University, and the holder of the Charles F. and Mary C. Heider Endowed Chair in Cancer Research.